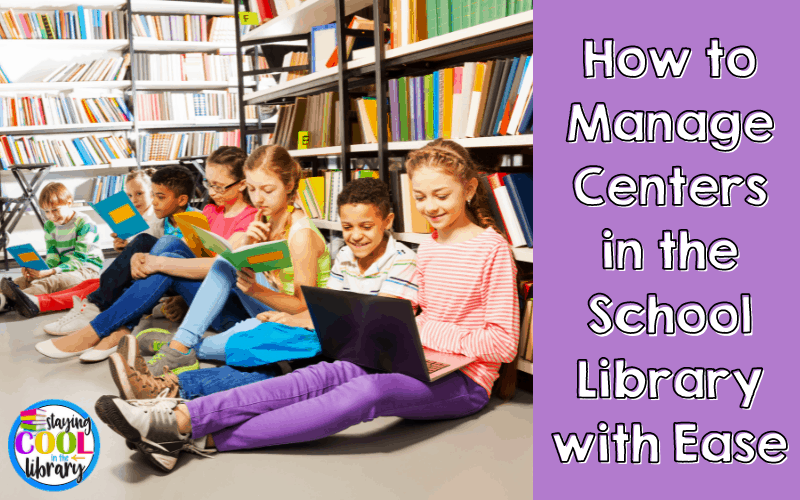 Do you struggle to manage centers in the school library? Do you even attempt to use centers at all? Are you overwhelmed with how to incorporate this into your already busy day with barely any breaks? Well, I LOVE having centers in the library and I'm going to tell you some tricks to help manage centers in the school library with ease. (Note: This post contains affiliate links.)
How to Organize Centers in the Library
There are two different ways that I organize and use centers in my library. I use them during a class period for hands-on learning, but I also sometimes use them during check out so that students are busy while I am managing the checkout desk. A typical schedule that I follow during a 50 minute class session would be: whole group time (20 minutes), center time (20 minutes), and checkout time (10 minutes)
One thing I've had to learn over the years is how to manage different centers between grade levels. For example-sometimes I might have a 5th grade class at 9:30 am but following them is a kindergarten class. I would not necessarily use the same centers for those classes but I do have some tips and tricks up my sleeve for how to easily change your centers out.
Prep and set up
At the beginning of the month, organize your centers (I usually keep them the same for 2-4 weeks so students get used to them). I like to have primary centers and intermediate centers. For example, I organize centers to use the same ones for my kindergarten, 1st and 2nd grade classes, and then I use different centers for my 3rd, 4th and 5th grade classes. You can adapt as needed such as making a center a bit more challenging for 5th graders as opposed to 3rd graders, but overall this method has worked well for me.
There are two other things that I do to make center time run smoothly and easily between class transitions: First, I always have all center materials prepared and organized in storage tubs ahead of time for the week. When one class leaves the library, I only have maybe 5 minutes before another comes in. My library aide and I set up certain center tables for primary centers and certain tables for intermediate centers at the beginning of the day. This way they are out and ready. Second, I tell students which tables to go to for their centers. For each class, I typically have anywhere between 3-5 centers so I can keep each table to about 5-6 students each depending on the class size.
If you don't have enough tables to keep all of those centers out all day, I suggest making sure the previous class helps clean up their centers. Then I would have 2-3 helpers from that class help me get centers ready for the next class by pulling down the storage tubs and grabbing all the prepared materials out. Kids love to help so don't be shy about asking!
Center Supplies
I always keep certain things on hand for center supplies. Pencils, glue sticks, scissors, crayons and markers are always must-haves. I also enjoy using these plastic storage bins from Amazon. They make it easy to store center items and stay organized. At each table, I also put the center directions with an "I Can" statement for objectives. I like to put those in these simple clear plastic frames from Amazon. I store the directions and "I can statements" in them and they can easily sit on the center table for students to read.
Center Activities
You can get as creative as you want for center activities. There are times when I have had lots of cool STEM activities and even times where I just put out crayons, paper, markers and stamps, and students just love the simplicity of that.
Here are some of my favorite center activities:
I will add specific directions for some based on a theme or season. For example-with LEGOs at Christmas time, I may have a STEM center in which I tell students to build a Christmas tree using so many legos or work with a partner to build Santa's sleigh. Sometimes I might have them do a graphing activity with the LEGOs. That is the best part about having different supplies on hand is you can easily change them to meet your needs.
Brain Flakes (Another STEM activity that is so simple but kids just love it!)
Buddy Read Center– this one requires zero prep except for having some books and stuffed animals out. Let students pick a stuffed animal to read to and go sit/ lay anywhere quietly in the library. This one is perfect for the primary grades.
Digital Center-For this I usually have coding or digital games set up on certain ipads or chromebooks.
Theme-Related Science Centers-For example, If we are learning about ladybugs, then we may do a research center on ladybugs.
Task Cards–I incorporate task cards into a learning center whenever I can. I have so many over different topics such as the Dewey Decimal System, author's purpose, different genres, cause/ effect and many more.
As you can see, I love incorporating STEM centers into the library! I will have an entire STEM blog post coming soon!
Tell me- do you have centers in your school library?